0
4 Helpful Tools You Can Use to Take Control of Your IT Career
As the world becomes more digital each and every day, the opportunity for IT pros to advance their careers grows exponentially. In fact, according to The Future of Jobs, a report published by the World Economic Forum, by 2025 we should expect some major developments in the IT world. We'll see advancements in data science, artificial intelligence (AI), machine learning and automation.
The IT pros that land these jobs will be analytical thinkers who prioritize innovation, active learning and complex problem solving. Could that be you?
Yes! You simply need to learn how to advance your IT career and become the best in your field.
Keep reading for advice on how to take control of your IT career with the help of some tools that can assist you with productivity, project management, source collaboration and continuous learning.
Tracking and Time Management
To learn where you can save time, you need to find out how you spend your time. For this purpose, time-tracking tools can be helpful since they give you data based on your daily work habits. You can then use this data to optimize the hours in your day.
One option for increasing your productivity and getting more things done (on time) is Rescue Time. With features like automatic time tracking, custom work hours and productivity reports, you'll gain a clearer picture of your typical work day.
Another handy tool for tracking projects and measuring team performance is Clockify. This tool allows you to share a dashboard with your team, see who's working on what and even calculate payroll.
Source: Clockify
If you're looking for an industry-specific tool, check out WakaTime. This tool features an open-source plugin for coding metrics that starts gathering data from the second you start typing code. WakaTime supports over 600 coding languages, including Python, HTML and JavaScript.
Your next step is to learn how to plan and prioritize. Start by planning out your daily, weekly or monthly tasks. Then, prioritize your tasks by deadline, importance, urgency or difficulty.
For instance, many IT pros prefer to finish their most complex or time-consuming tasks early in the day, to get them out of the way. If you find this works for you, the perk is you'll spend the rest of your day on more enjoyable tasks.
If you find it difficult to prioritize tasks, try the Pomodoro Technique. Divide your work into 25-minute intervals with short, 5-minute breaks in between. The Pomodoro Technique is perfect if you're the type of person that is chronically overworked and needs a push to take a break.
Communication and Project Management
Before starting any development work, you need to choose a project management methodology.
Large teams that constantly deliver and optimize a complex product will benefit from an Agile (Scrum framework) approach. With this approach, each team member has their task – or sprint – for which they are personally responsible, independent from the other product development processes. Agile methodologies are more flexible and involve the customer in the initial development stages. On the other hand, the Waterfall methodology is suitable for smaller projects that can be completely structured and planned in advance.
If you're looking to hone your project management skills, CompTIA Project+ is ideal for IT pros who manage smaller, less complex projects. This IT certification is more versatile than others because it covers essential project management concepts beyond the scope of just one methodology or framework.
Once you choose the right project management methodology, you'll need to create a project management plan. Tools like Asana let you customize your workflow, set deadlines and assign tasks. Asana allows you to visualize your project plan in a list, board, calendar and timeline view.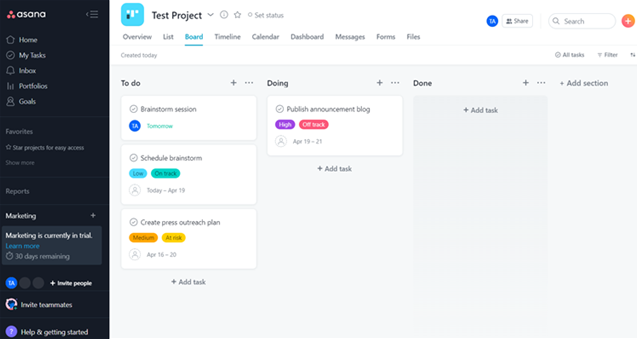 Source: Asana
Visualization is one of the best ways to fully understand a project's scope and structure, as more than 65% of people are visual learners. The first step to visualizing your task effectively is to figure out what is a concept map. Concept maps are diagrams that will help you visually structure and depict an idea or a project.
Source: Mindomo
If visualization is your strong suit, you can also check out Trello. IT pros may appreciate the Kanban style of Trello boards, allowing teams to quickly form a big picture view of the project.
When it comes to team communication, Slack channels can be a practical option. Slack allows you can create a separate channel for each project or team, so that the right people are always in touch with each other.
In addition, it's smart to have a centralized space for storage and access to documents. Upload your documents to the cloud with platforms like Google Drive or OneDrive for real-time team collaboration and to ensure nothing is ever lost.
Source Collaboration
DevOps teams use specific sets of tools created to improve communication and automate otherwise laborious parts of the process throughout the build out, deployment and monitoring/upkeep of the software.
Some tools that can help with this are GitHub or GitLab. When deciding between these two tools, it's important to consider your project requirements. GitHub has a cleaner, user-friendly interface, while GitLab might be a tad confusing with all its features. However, with regard to the DevOps cycle, GitLab can support your entire software development lifecycle, while you'll need third-party integrations for GitHub.
For those looking for a cost-effective way to automate code collaboration, Bitbucket is another helpful Git tool that can help your team work better together.
And finally, you'll need a text editor. Sublime Text is a good text editor option. The tool features a distraction-free writing mode, allowing you to focus on the task at hand.
Of course, if you don't code – don't worry. Just as it has become increasingly important for higher-level IT pros to be able to talk about business needs to executives, learning how to communicate and collaborate with coders could help you move up the IT ranks as DevOps continues to evolve.
Continuous Learning and Networking
Continuous learning and upskilling are crucial for a successful IT career. Things change at the speed of light in the digital world, and everybody is trying to keep up. CompTIA IT certifications have a long-standing history of being the industry credentials you need to show employers you have the IT skills they are looking for. To increase your chances of landing a top-notch job, check out some high-paying IT certifications and learn how CompTIA can help you get into IT and advance your career.
Last, but certainly not least, don't underestimate the power of networking. Start by boosting your social media profile and then expand your efforts by joining the right groups, sharing valuable content and connecting with the right people. Don't forget to use hashtags to increase your exposure.
Work Smarter, Not Harder
There is a tool for everything these days. Implementing just one of these can help you streamline your daily tasks and lead you to work in a more structured and organized way.
As an IT professional, it can be easy to get stuck bouncing from one task to the next for 12+ hours. Since this is so common, let's throw in one more really important concept – self-care. No matter the trajectory your career takes, it's essential to always make time for yourself. Once you learn how to work smarter, not harder, you'll be happier and likely more successful.
Get career advice like this right in your inbox with CompTIA's IT Career Newsletter. Subscribe today, and you can save 10% off your next CompTIA purchase.